Effective Date: January 1, 2003
Senator Steve Saland (R,C Poughkeepsie) joined Governor Pataki today at Chatham High School for the signing of Sean's Law. Senator Saland sponsored Sean's Law (S.7291) in the Senate.
The bill would require that when the holder of a learner's permit or junior driver's license is charged with DWI or DWAI a judge would have the authority to immediately suspend the junior learner's permit or junior license at the driver's first court appearance. The bill would also require the court to notify parents or guardians of their child's court appearance or failure to appear on DWI or DWAI charges.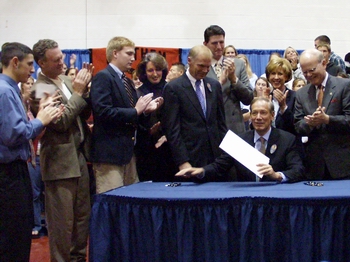 On January 1, 2002 in Columbia County, Sean Patrick French was killed by a drunk driver already awaiting arraignment on a December 13th DWAI charge. Present law does not require that a person under the age of 18 have his or her license immediately suspended at the his or her first court appearance on a DWI or DWAI offense.
"I am very pleased that Governor Pataki has signed this legislation today," said Senator Saland. " To his credit the Governor has been supportive from the onset. Sean was an outstanding student, athlete, and member of the Columbia County Community. As regrettable as this tragedy has been, due to the selfless dedication and inspiration of Sean's parents Cathy and Mark French, it can serve as a catalyst to protect lives and prevent other families from having to endure such horrible anguish."
"This law will make our roads safer for all and will certainly reduce the likelihood of young lives being taken through repeatedly irresponsible behavior," said Senator Saland.
The law will become effective in 90 days.