5k and Meghan's Mile Event Details
5k Sponsored by:

Meghan's Mile Sponsored by:

Packet Pick Up and Walk In Registration - Saturday, April 28
5K and Meghan's Mile Packet Pick Up and Walk-in Registration: 11 AM - 1PM – Chatham High School gymnasium


First 250 to show up receive special early-bird gift! Avoid the lines on Sunday morning. Come Saturday to pick up your packet or register.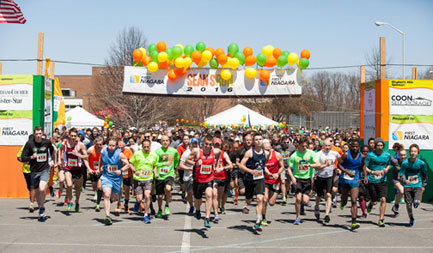 Race Day - Sunday, April 29
Packet Pick Pick-Up


Last Chance Registration Chatham HS gym
Meghan's Mile: 9 AM – 10 AM
5K: 10 AM – 11 AM


Start Times
Meghan's Mile Youth Race: 11:30 AM
5K Run: 12:00 Noon

Amenities and Giveaways
The first 1200 registrants receive Sean'sRun commemorative t-shirts.
The first 250 registrants in attendance at the Saturday Packet pick-up receive an extra special premium.
Expanded food court offering great spread of delicious refreshments awaits all at the finish line.
Music and announcements at the start and finish lines.
Berkshire Brazillian Bateria drum line to help get your heart beat racing.
A small town event with a big-time festival feel!
---


Sunday, April 29, 11:30 AM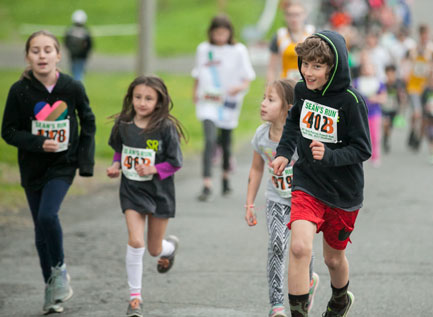 Youth Race for 12 and Under and Shorter Walk for All. A half mile out and a half mile back to finish line.
Learn more about Meghan Kraham >>
Records:
Male Course Record - Chase Werner, 12, Stuyvesant, NY, 5:51
Female Course Record– Kaylee Scott, 11, Castleton-on-Hudson, NY, 6:21
Awards for Meghan's Mile
Awards to first Overall Boy and Overall Girl. Age group awards to top three boys and top three girls in each group: 6 and under, 7-8, 9-10, 11-12
---
5K Run and Community Walk —
Sunday, April 29, 12:00 Noon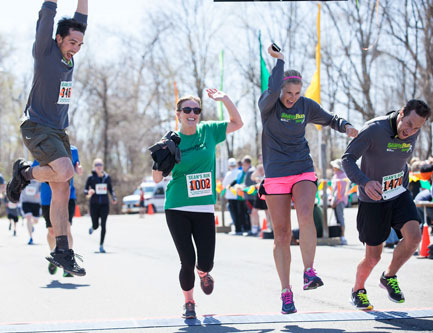 Runners/Walkers/Joggers of All Ages and Abilities. USATF Certified and accurately measured 3.1-mile course, includes Main Street, past the historic Crandell Theater and the famous Chatham Clock Tower.
Records:
Male Course Record: 15:18 - Matthew Forys (Sean's Cousin),
2008 & 2013, New York, NY
Female Course Record: 18:16 - Kara-Lynn Kerr,
2005, Albany, NY
Awards for 5K
The Jack McGrath Award — to first Overall Male and Overall Female. Age group awards to top three men and top three women in each group:
12 and under, 13-15, 16-18, 19-29, 30-39, 40-49, 50-59, 60-69, 70 – 79, 80 and over.
---

Location
Start and finish at Chatham High School, Village of Chatham, Columbia County, NY. Just 40 minutes south of Albany.
Prohibitions
No dogs allowed. No bikes or skates. Baby joggers allowed but must line up at back of the pack for the start of the 5K and Meghan's Mile.
Pre-Race Activities
Be sure to check out the Prevention Education Expo with loads of information to help teens make safe and healthy choices, the Introduction of the Winners of our Grants and Scholarships and the fast-moving World Championship Battle of the Belts seatbelt buckling contest for students.
B-Chip Timing
Sean's Run is timed by ARE Event Productions using Bib #s with embedded timing chips provided to each participant. Bib #s must be worn on the front of your shirt. There is no need to return chips at the finish line.
Results
Race results will be posted at this website.
Extra Contributions – Where does the money go?
Money raised at Sean's Run is contributed to fund programs implemented by schools, youth organizations, MADD and RID that combat underage drinking, impaired driving and teens' lax use of seatbelts. Also, Sean's Run funds scholarships going to deserving seniors from across the region. Thanks to the generosity of our sponsors and participants, Sean's Run has contributed $219,000 since 2002.