New Year's Day marks 10-year anniversary
From tragedy comes new legislation and Sean's Run

By Karrie Allen
Originally Published by the Register Star / Chatham Courier:
Wednesday, December 28, 2011 11:34 AM EST
> click here for the original article
CHATHAM — Sunday will be the start of a new year, but it will also be a somber reminder that 10 years ago, a devastating accident forever changed the lives of four Chatham High School students, their families and a community. But from this tragedy sprung change and hope.
12:03 a.m. Jan. 1, 2002 — the moment everything changed.
Most everyone knows or has heard what happened that morning; 17-year-old Kristopher Goodrich, who was driving drunk, was driving too fast, lost control of his car going around a curve, slid off the road, flipped and hit a tree, causing 17-year-olds Sean French and Ian Moore to be ejected from the back seat through the rear window. French and Moore were helicoptered to Albany Medical Center; Moore was treated for severe internal injuries, but French was declared dead on arrival. Goodrich and 16-year-old Patrick DiCosmo were sent to Columbia Memorial Hospital, where they were treated for minor injuries and released.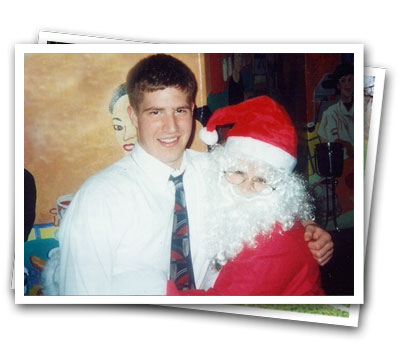 This photo with Santa was taken while Sean French was working as a busboy at Ciao restaurant in Chatham just 18 days before the crash. Ironically, it was taken the same day Kristopher Goodrich, the driver in the accident that claimed Sean's life, was arrested the first time for DWAI. (Photo courtesy the French family)
In a March 2002 Sports Illustrated article by Steve Rushin about French, he wrote that the high school track star wasn't even drinking that night because he planned on running a half-marathon in Albany on New Year's Day. French's father, Mark, in a phone interview Friday, said it would have been his first half-marathon, but he had been participating in a 3.5-mile run on that day for years.
Ten years later, everything is different in his mind, he said over the phone. However, he does remember thinking on his way up to Albany Med that morning that his son won't be in any shape to run that half-marathon. He didn't even know yet that his son hadn't survived the accident.
Chatham Town Justice Jason Shaw was awakened at 2 a.m. to arraign Goodrich. Shaw, who knows the family well, recalls today that it was a real sad time, a "real tragedy."
"It was a sobering experience at that hour in the morning," he said. While he said he had seen several other 17 year olds who had been drinking and driving stand before him in court, this was the first time it had resulted in a death.
Goodrich was charged with driving while intoxicated, second-degree vehicular assault, second-degree manslaughter, speed not reasonable or prudent and uninspected motor vehicle and was sent to jail.
This was all in the early morning hours of the new year. The next day, the healing process — and the steps to making change — began.
While the school had its share of losses — a fatal accident earlier in 2001 that claimed the life of a CHS graduate and five or six years prior, a nonaccident-related death of a student — the "school has never had to deal with the death of a student who is currently attending school in this tragic fashion," former CHS Principal Ron Davis said after an assembly held that next day. He remembered Sean's humor and that he "was the best runner we've seen here in years."
Later that same day, Goodrich was back in court for what was his second time in less than a month. Unfortunately, this was not the first time he had driven under the influence.
At 11:45 p.m. Dec. 13, Chatham Police officers stopped Goodrich for an equipment violation, which also led to the charge of driving while ability impaired. He was instructed to return to court Jan. 8 to answer those charges, but his license was never taken away. At the rearraignment Jan. 2, town Justice Doris Appel did suspend his license, however, it was too late; this very issue would be addressed later through new legislation.
The Saturday after the accident, more than 600 people packed the CHS auditorium for a memorial for Sean French. Mark French recalled that some students came up to him following the service and said, "Let's go for a run."
So, more than 100 people ran from the high school to a memorial set up on Route 203, where the accident occurred. Mark recalled that on the way back, some of the students said a memorial run like this should be an annual event.
He noted that Jack McGrath, a very good friend and also a runner, was really the impetus behind the first memorial run honoring Sean. "He jumped on it; got the ball rolling," he said. He added that students, especially Meghan Kraham, a very good friend of Sean's, wanted to hold it sometime close to Prom Night in order to heighten safety awareness for students. Kraham would also become a valuable part of the re-established Students Against Destructive Decisions chapter at the high school.
Jeff French, Sean's uncle, recalled in a phone interview Saturday that as word got out about the accident, students would show up at his brother's house. He said they had made a cross that anyone could sign and it was set up at the crash site. However, Mark thought it would be better to plant another pine tree to replace the one the car hit and so a tree was planted and the cross was moved to Mark's house, where it still stands.
Meanwhile, Moore, who played football and basketball for Chatham, was facing what would be an uphill battle for the next 10 years. In addition to several internal injuries, he injured his 10th thoracic vertebrae, rendering him paralyzed. On Jan. 13, 2002, he headed to Brussels, Belgium to undergo research treatment. He worked hard while he was there, while continuing to keep on top of his studies and in touch with his friends. A little more than a month later, he returned to the states to begin rehabilitation at Mount Sinai Hospital in New York City; he returned home sometime in mid-March.
While Moore was in Belgium working hard on his recovery, Sean's parents were back home working hard on changing legislation that would hopefully save other lives in the future.
Mark French said that all it took was a call to Sen. Stephen Saland requesting that representatives look at the current state law with regards to Goodrich's case. With sponsorship by Saland in the Senate and Majority Leader Paul Tokasz in the Assembly, as well as help from former Sen. Joseph Bruno, who dubbed the bill "Sean's Law," both houses approved the legislation.
The bill is designed to expedite the suspension of learner's permits and junior licenses for DWI and DWAI offenses. The bill would require that a young driver charged with DWI or DWAI be arraigned at the next regular court session. The judge would also have the authority to immediately suspend the driver's license and automobile registration.
Mark said that Saland constantly kept in touch with them as the bill went through the Senate. Language was constantly being changed and the senator wanted to keep the family in the loop.
On April 18, both houses passed the legislation — a little more than a week before the first memorial run. On the website for Sean's Run, Mark stated that the date (4/18) was significant because Sean ran the mile in 2001 sectionals winning with a time of 4:18. In the phone interview, he reiterated what a devine coincidence that was.
At the end of September, then-Gov. George Pataki signed the bill into law at a conference held at the Chatham High School. He told Mark, "it was the fastest moving legislation he's ever seen."
On Oct. 2, nine months and a day after the accident, Goodrich was sentenced to 1 to 3 years with the New York state Department of Corrections. Mark said over the phone that then-District Attorney Beth Cozzolino was outstanding throughout the whole court process. He said she was fair and when she proposed Goodrich be tried under youthful offender status, the Frenches were in complete agreement.
Goodrich is still in Spencertown, said Mark, and from two conversations he's had with him, Goodrich said he's doing well. He said he and Cathy have been able to forgive him and want him to do well.
Goodrich's Facebook page, which is private, only shows that he works for Bill Stratton Building Company in Old Chatham; an attempt to reach out to Goodrich was unanswered.
Mark added that he still keeps in touch with Moore, who lives in Canaan. He said friends visit and in fact, he was getting ready to bring him cookies for the holidays. He said that it's still tough for the Moore family and that they can still benefit from community support.
DiCosmo and Moore did graduate from CHS in 2003 and DiCosmo currently works for the Columbia County Sheriff's Office.
Mark noted that the Class of 2003 planted a memorial tree in front of the high school and dedicated a page to Sean in the yearbook. When the school held the assembly the day following the accident, a memorial candle was lit and stayed lit until graduation day in June 2003, when Sean was expected to graduate.
At that assembly, Principal Davis said that the school would have to reactivate the SADD program.
Tracy Kelly was hired in 2004 to be the high school social worker. The following year, she became co-advisor, with Amanda Carroll, of the school's SADD chapter.
"As a result of this unfortunate tragedy, many positive things have happened in our school," said Kelly. "Our SADD chapter membership has grown and become increasingly active over the last several years. We coordinate activities to help raise awareness of safe decision making."
These include random seat belt checks, Red Ribbon Week, SADD's National Gift of a Lifetime Campaign, Above the Influence Essay and Artwork Contest and Battle of the Belts. Additionally, they have a Grim Reaper Day, they've sponsored billboards promoting safe habits throughout the community and hold dances. SADD participants also take part in the Sticker Shock Campaign with Catholic Charities, which puts red stickers on packages of alcohol in local stores warning about the penalties of buying alcohol for minors.
The reason this campaign is so important is because the question remains as to where Goodrich was supplied alcohol that New Year's Eve. Police officials launched an investigation, but it was never solved. Mark French said they didn't pursue it because they weren't looking to find fault or place blame, not with everything that had already happened.
Kelly noted that SADD events are made possible with help from the Sean Patrick French Memorial Grant, which the CHS chapter applies for each year.
"Because I feel strongly about educating our youth of the dangers of impaired driving, I decided to join the Sean's Run Committee Board in 2010," she said. "In working with the Frenches, I have been impressed with the efforts of the family to turn their personal tragedy into a positive support for students not only in our school, but throughout the Capital District."
Kelly sits on a very committed, all-volunteer committee, which includes Jeff French, the chair of Sean's Run for the last eight years. When the committee was formed, he said he was invited to join, but quickly added that he would have joined anyway. After two years, he was asked to be the chairman, which he proudly accepted.
He said that the committee is filled with community members and that the core is the same group from the very beginning. "Volunteers keep coming back," he said.
Jeff added that the whole French family is thankful for everyone who comes out to Sean's Run every year and for all the sponsors, as well as all the volunteers, who put "many hours into Sean's Run."
The run grows every year. "There are more registrants the day of the event than pre-registrants; it normally doubles," he said, because a lot of runners wake up that morning and decide if they will run or not; how they feel and the weather often determine that decision.
A serious runner himself, these are probably things Sean French thought about before hitting the pavement. Maybe not early on, like when his father took him to his first race, the Turkey Trot in Hudson, when he was 4 or 5 years old, but most likely as his love for running grew.
"He was a very good athlete, but an exceptional runner," commented Jim Spock, one of Sean's track coaches. "He was a good leader and a good natured kid."
"Sean was an amazing kid with a great personality," added John Roloson, another one of Sean's track coaches. "As a new coach at the time, I always got tense and nervous at the big meets and he would always come up to me beforehand with his infectious smile and say, 'Don't worry coach, we got this.'"
Roloson recalled a story that took place at sectionals. "Coach Spock and I had Sean run the Steeplechase, which was the event his older brother, Eric, had the Chatham record in. It was a strategic move to help us beat Schuylerville for the sectional championship. Sean did exactly what we needed him to do, which was win," he said. "Sean knew he would win, but wanted to make sure that he didn't break his brother's record because he knew how important it was to Eric."
However, Sean broke other records and won many races, too many to list here (but you can find them at www.seansrun.com). Spock noted, though, that the winning time of 8:08 for the 4x800 meter team of Ricky Dunbar, Nick Sarro and Eric and Sean French still stands today.
Spock recalls hearing the siren that night and then receiving a phone call from Mark Dwyer telling him the news. Whenever he hears the siren go off, he often thinks of Sean.
"That fateful mistake [that] night forever impacted three of my athlete's lives (Moore, French and Goodrich), their families, their friends and loved ones," he said.
"Since then, I have used this and other tragic events as an example to many of my athletes I coach of how fragile and precious life is," said Spock. "I emphasize that they should take every moment in life and live it to the fullest because none of us know what challenges life may present to us at any moment."
Roloson said it's hard to believe it's been 10 years, but "Ten years later, Sean's legacy has and is still impacting thousands of people," he said. "The French family has made something so tragic and devastating into something so positive and beneficial for so many."
That benefit, Sean's Run, celebrated its own 10-year anniversary this past spring. While Jeff French said the numbers were down a little this year — because Easter was late and they were competing against other events on May 1, noted Mark French — the turnout was still fantastic, as always.
With each new year, events have been added, like in the fifth year, the Battle of the Belts seat belt competition. The competition, albeit fun, is also a reminder to high school students to "buckle up."
In the seventh year, Sean's Run renamed the youth run Meghan's Mile, in honor of Kraham, Sean's friend who helped organize the run. She succumbed to a rare form of cancer on Aug. 17, 2007.
Mark French said district Superintendent Marilyn Barry was instrumental in helping get a scholarship established through the Berkshire Taconic Community Foundation. He said 75 seniors — in Chatham, Columbia County and throughout District 2 (which includes 15 school districts) — have benefited from the scholarship in the 10 years.
"What the school did was just amazing," said Mark. He said that when someone asked Sean where he was from, he didn't say Ghent, he would say "he was from Chatham High School."
The very first Sean's Run was held on April 28, 2002. Around 1,000 people braved a cold drizzle — weather Sean would have liked to run in Mark French said at the time — to participate. The scholarship money raised that first year was given to the Moore family to help retrofit their home to accommodate Ian's wheelchair and other special needs.
Spock laments that no one will ever know what Sean would have achieved academically or track-related, "but everyone knows in this community the impact that Sean's Run has had on educating our youth of the dangers of drunk driving and has provided a forum for spreading this message throughout the Northeast."
CHS Principal John Thorsen, who was assistant principal at the time, said that "because Sean French was the kind of young man who worked hard to better himself and those around him, I think he would be proud to know his name is associated with so much positive work being done to help prevent further tragedy, both in his hometown and throughout the Capital District."
In fact, Sean's Run was the impetus behind the "Safety Tree" that was planted by the emergency room entrance at Columbia Memorial Hospital this April 1, a month before the 10th annual memorial run; much like the run that first year, a light drizzle accompanied the ceremony (perhaps a sign from Sean?). The tree, adorned with white lights, will remain lit every day and if there is ever another drunk driving fatality, a while light will be replaced with a red one.
One red light was lit during the ceremony — to represent Sean French — however, when asked later, Mark noted that no other red lights have been lit since.
Jeff French remarked over the phone that Cozzolino commented at the ceremony that day that Columbia County is the best county in the state with regards to DWI numbers.
She said that while DWI numbers have risen across New York state, they have gone down in Columbia County due, she believed, to law enforcement's tough stand on drinking and driving. Jeff added that the county's DWI program has also been very supportive.
"Sean strived to be the best by always doing the best he could," said CHS Athletic Director Scott Steltz, who was the Physical Education teacher in 2002. "To know Sean was to love him — for his infectious smile, his manner and humor — and to respect his tenacity for everyday life, both in and out of athletics. Sean never met a stranger and he touched the lives of all who shared the joy in knowing him."
So true are these sentiments shared by Steltz. Even in Sean's death, he has touched the lives of loved ones — and even strangers. Going back to Rushin's Sports Illustrated article, he wrote that two hours after the accident, Mark and Cathy French decided to donate Sean's eyes, skin and organs.
Sean had a "good heart, strong eyes," said Jeff French over the phone. While he believed the skin was donated to a burn unit — Jeff and Mark are both volunteer firefighters — Mark added that for he and Cathy, that was an early hope, but "these are things we did not want to know about."
Sean French was laid to rest in St. James Cemetery, where he and his brother, Eric (who's engaged to be married next June), would run around the outer driveway. Mark referred to them as the St. James Track Club.
Ten years later, "the sting, what could have been, starts to subside," said Mark French. His thoughts today are much more pleasant. "The school and community helped with that."
Sean's Run and the "Safety Tree" are not just memorials; they're reminders that parents need to remain vigilant, he said.
Mark stated, pointedly, that parents don't always have trust, but "love is unconditional."