Click to visit our 2017 sponsors
---


Contributions that were added to entry fees by participants and donations from others were used to support our grants and donations totaling $9,459 to youth groups and schools to combat underage drinking, impaired driving and teens' lax use of seat belts. Plus this year we awarded scholarships totaling $4,000 to 3 deserving seniors from the region. That's $13,459 given away in 2016 thanks to the generosity of many. Since 2002 we have awarded $208,965

Click here to see our list of 2016 contributors
---
Take a look at our
2017 EVENT BROCHURE!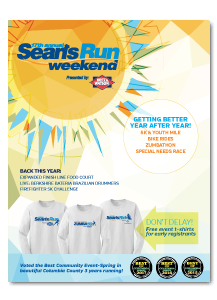 Sean's Run 2017 Event Registration is Now Open!
Register Online here >>
---
New Presenting Sponsor for Sean's Run Weekend
April 29 & 30, 2017
Chatham, New York
Dietz & Watson, one of the largest preparers of premium deli meats and artisan cheeses offered at the finest supermarkets, including Price Chopper/Market 32, and neighborhood delis throughout the United States, has signed on to be the Presenting Sponsor of Sean' s Run and all of its associated year-round activities including Sean's Run Weekend in 2017. The 16th Annual Sean Run Weekend Presented by Dietz and Watson is scheduled for April 29 and 30, 2017 in Chatham.
Robert Pulda, Account Manager of Dietz and Watson, in announcing their sponsorship stated, "Dietz and Watson is proud to align itself with Sean's Run. We believe that this outstanding event is absolutely having a very positive impact and we are quite confident that because of this effort by the entire community, lives are being saved. Dietz and Watson is a good and responsible neighbor and we are proud to be a part of such a community based effort."
While a new Presenting Sponsor is supporting the event, the mission of Sean's Run remains unchanged: To produce a well organized and highly regarded community event as a platform to increase awareness about the problems and solutions of underage drinking and impaired driving and the lax use of seat belts by teens.
Car crashes are the number one cause of death for teenagers; nearly one third of all teenage drivers who crash have been consuming alcohol. Nearly 2/3 of all teens that perish in car crashes were not using seatbelts.
The year-round efforts of the Sean's Run organization culminate with the highly acclaimed annual Sean's Run Weekend which serves as a catalyst each year for parents, educators and youth organizations to talk with teenagers about making good choices when it comes to driving and alcohol consumption. Having been designated as Columbia County's Best Community Event-Spring in 2015 and 2016, Sean's Run Weekend attracts participants from throughout the Hudson Valley and Capital District.

Click Here to read more
---
2017 Event T-Shirts
Register early to take advantage of our free give-aways!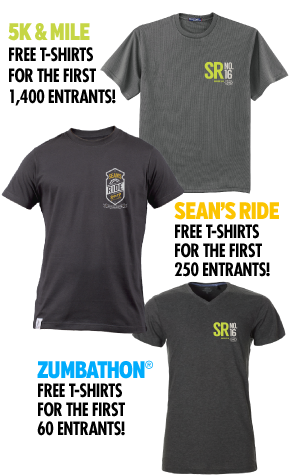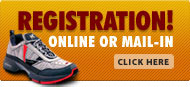 ---
---


See comments from our Facebook page >>
---
2017 Information Sheet
All event information in one
handy, single sheet.


Click Here
---