Presents:
World Championship Battle of the Belts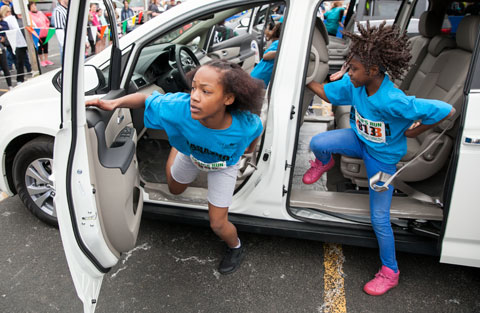 Date/Schedule: Sunday, April 29

9:30 AM
Battle of the Belts Teams arrive at Chatham HS, get Bib #s and T-shirts inside gym, sign-in at Battle of Belts Tent, visit Prevention Education Expo
10:00 AM
Group Photos of Teams at Battle of Belts Tent
10:15 AM
Teams Introduced at Battle of Belts Tent
10:30 AM
The World Championship – at Sean's Run!
Chatham High School
What is the Battle of the Belts:
An exciting and fun "buckle-up" competition for high school and middle school (5th-8th grade) students that is produced by school groups or youth organizations such as scouts, 4-H clubs, Boys Clubs, Church groups, etc. that is designed to change behaviors and attitudes about seat belt use. Preliminary Battles are conducted by schools or youth groups to select a team that will represent the school or youth group at the World Championship Battle of the Belts.
Purpose:
To increase teenage seat belt use.
Why:
Auto accidents are the number one killer of teenagers. Two-thirds of teens who perish in car wrecks were not wearing safety belts.

How do we compete in the World Championship?
Just one team per high school, one per middle school and one per youth organization may register to compete. While Preliminary Battles are the recommended way to select a team to represent your group or school, teams may be entered from schools and groups that were unable to conduct a Preliminary Battle.
Every member of a Battle of the Belts team must be registered (and have paid the registration fee) as an individual in either the 5K or Meghan's Mile.
Teams must be pre-registered on or before April 15th by contacting:
Eileen French
1002 Fort Hunter Road
Schenectady, NY 12303
efrench@rencorp.org
Just let us know in advance that you'll have a team competing. Then, all members of teams competing in the World Championship Battle of the Belts must also be individually entered as participants in the 5K or 1 mile events of Sean's Run. Mail-in entry forms and on-line entry for Sean's Run are available at www.SeansRun.com.

What do we do on World Championship Day?
The Battle is waged before Meghan's Mile and the 5K.
Teams and their spectators/supporters should arrive atChatham High School by 9:30 AM. First they pick up their 5K / 1 Mile participant packets and bib numbers inside the gym. Then teams must check-in with the World Championship Officials under the tent in the parking lot by 10:00 AM.


The order of team competition will be determined by random selection. At least two Official Vehicles, identical make and model, will be used so that two or more teams may compete at the same time.


Teams may warm up / practice using the Official Battle of the Belts Vehicles prior to the start of the Battle. This provides an opportunity to get to know the vehicles to be used in the competition. There will be no practice or warm ups using the Official Vehicles after the start of the Battle.


Team members must wear their Bib # while competing in the World championship.


After the Battle is waged, Team members may then participate in the 1 mile (a race for 12 and under, and a walk for everyone else) or the 5K run / walk. Battle of the Belts Awards are presented after the 5K.
World Championship - The Rules:
The World Championship Battle of the Belts will follow the same rules as the Preliminary Battles. All participants must wear their Sean's Run bib number affixed to the front of their shirts.
Teams are encouraged to bring spectators for support and cheering during the World Championship. Teams are encouraged to design and wear team t-shirts.
The World Championship Awards:
In addition to bragging rights, some teams will be able to return to their schools with Battle Trophies including the following awards:
Awards to the three fastest teams in both divisions

Awards for the Best Team Name in both divisions

Awards to the teams in each division with the Loudest Cheering Section

Awards in each division for the Best Team T-shirts



When:
Preliminary Battles as Pre-Prom season activities to be completed at youth groups and schools by April 15. World Championship conducted at Sean's Run, at Chatham High school!
Where:
Preliminary Battles are held at youth organizations, high schools and middle schools throughout the region.
How:
Each youth group and school group decides what works best for them. Preliminary Battles could be presented as a SADD Chapter activity, a Scout Troop activity, a youth center activity, by a School Resource Officer, as a PTA event, a Student Council or STOP DWI program, or part of a school's health/safety program.
Who:
School administrators or youth program directors first agree to conduct a Preliminary Battle. Youth then form their own teams of four competitors. Police officers may be enlisted to help with officiating. Teachers, SADD advisors and adult volunteers may be recruited to assist.
---
The Preliminary Battles –
at your youth organization or school!
What is the Battle of the Belts Contest?
It's a fast-moving competition where teams of 4 youth see who can buckle-up the fastest. To start, the team runs from a starting line, to a 4-door car. The Starting line is 15 feet from the back of the car's rear bumper. Team members get in, buckle up, and throw their hands in the air until a Referee shouts "ROTATE!" Then they unbuckle, get out, rotate clockwise around the car to the next seat and buckle-up again. They rotate twice more until they have been buckled in all four seats. The team with the fastest time after four "buckle-ups" is the winner!
Who can do "Battle"?
Middle school-age (grades 5-8) competitors compete in the Junior Division and high school-age competitors compete in the Senior Division. Teams may be comprised of mixed genders and grades.
When does the "Battle" begin?
Youth groups and schools should conduct Preliminary Battles as part of Pre-Prom season safety activities, and by April 15th – just in time to select a team to register for the World Championship.
How do we plan our "Battle?"
Begin by getting approval from your Principal or Program Director and they can help decide who needs to be involved, as well as how and when the Battle will be conducted. Schools and youth groups may want to ask local police to help conduct the event. The contest can be held as a club activity, a SADD chapter event, a student council or PTA event, an after-school activity, an assembly program, a weekend event or however deemed appropriate by school or youth organization officials.
Once the date of your Battle has been set, then it's time to promote the "Battle of the Belts," encouraging teens to sign-up in teams of four. Be sure to use posters, public announcements and flyers to let everyone know about the event. Place "Battle of the Belts" Team Sign-Up Sheets in locations around where teens can sign up their teams.
Encourage participants to come up with original team names that are reflective of a message to promote seat belt use. How about: "The Belters?" "Seatbelt Sallies?" "Benny and the Belts?" "Click Notes?" (We bet you can come up with better names!)
Also, you will need to recruit a Referee, a Timer and a Recorder for each car. The Referee watches closely to be sure all team members buckle up before telling them to rotate to the next seat. The Timer uses a stop watch which starts when the Referee signals the start and time ends when the Referee blows a whistle signaling that the team has completed its buckle-up in the fourth seat. The Recorder writes the time for each team on a time sheet. You may want to give awards to fastest teams, teams with best names or to teams that tried the hardest.
Equipment / Supplies Needed
Promotional posters
Sign up sheets
4-door Car(s)
Stop Watches
Time Recording Sheet
Whistle
Awards
You will need one or more 4-door cars to use in the Battle.
Safety First!
The Battle needs to be conducted safely – No injuries in thisBattle please! Car doors stay open during the Battle.
Optional Activities
To build interest, Preliminary Battles may include a special fun run-off that includes teens competing against teams of school faculty and/or police officers.
---
What are the four LAMEST reasons teens give for not buckling up?
It's uncool to use seat belts.
Seatbelts are uncomfortable.
Don't need seat belts when only traveling short distance.
Nothing's going to happen to me.

Safety Belts and Teens
The 2003 National Highway Traffic Safety Administration Report says:
Seat Belts Save Lives
Teens have the highest fatality rate in motor vehicle crashes than any other age group. One key reason for high traffic fatalities among this age group is that they have lower safety belt use rates than adults.
Safety belts saved more than 12,000 American lives in 2001. Yet, during that same year, nearly two-thirds (60 percent) of passenger vehicle occupants killed in traffic crashes were unrestrained.
Research has shown that lap/shoulder belts, when used properly, reduce the risk of fatal injury to front-seat passenger car occupants by 45 percent and the risk of moderate to critical injury by 50 percent.
About Sean
Sean Patrick French, a 17 year-old junior, community volunteer, honor roll student and record-setting athlete at Chatham High School, lost his life on January 1, 2002 as a passenger in an underage drunk driving car crash.
Another passenger, 17-year old Ian Moore, suffered paralyzing injuries.
Both Sean and Ian were ejected from the car, both were not wearing seatbelts. The driver, also 17, had been arrested for drunken driving 18 days prior to the fatal crash. This tragedy prompted the enactment of Sean's Law that now requires the immediate suspension of a license upon the arrest of a 16 or 17 year old on drunken driving charges.